Beer and hymns in North Elmham
Beer & Hymns at The King's Head in North Elmham welcomed Bishop Jonathan to its Eastertide evening in late May. The Revd Sally Kimmis, Heart of Norfolk BenficeTeam Rector, tells us more.
Now in its third year, Beer & Hymns goes from strength-to-strength. It came to life during a conversation between myself and local resident Jenny Cunningham.
The idea for Beer & Hymns came from a very creative fellow-ordinand when I was training for ministry. Jenny and I put our idea to the Landlord of The King's Head, Marcus Gillies. He was totally on-board with it and he and his staff are wonderfully supportive. Jenny quickly found a great accompanist, Teresa Williams, so we held our first event in June 2017.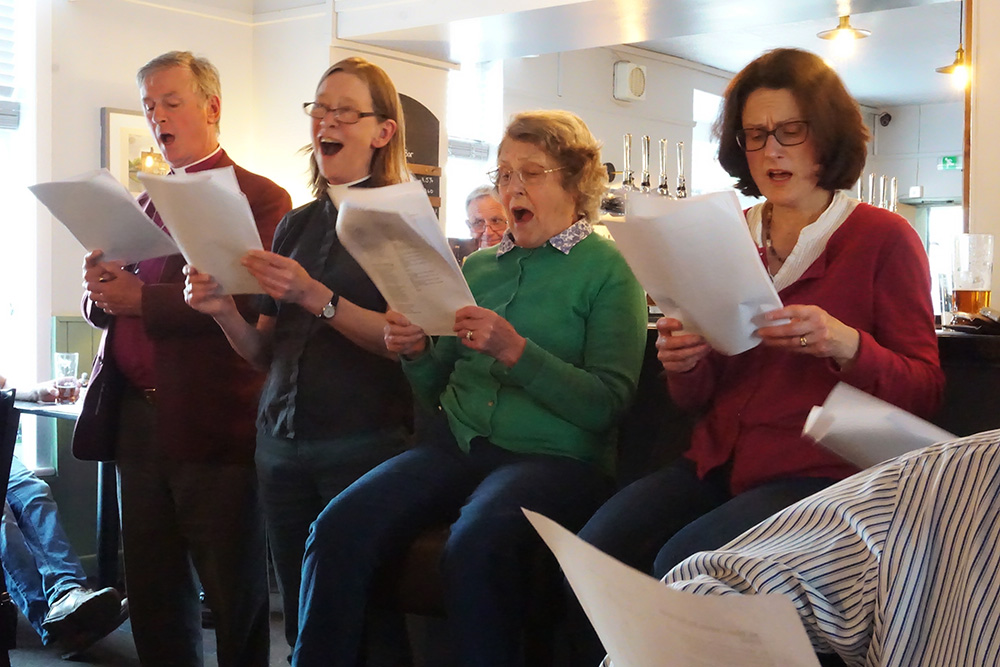 The format is quite simple: three 'sets' of hymns, with comfort breaks and hot snacks, provided by the pub. We've held two events each year, with hymns themed to the season – the next one will be on 31 October, celebrating All Souls and All Saints. I'd love to recruit our pub congregation as a choir – they sing with such gusto and enthusiasm! And, as they do so, they're praising God!
Bishop Jonathan joined us at this event as part of his visitation to the Heart of Norfolk Benefice. He adds: "I was blown away by the vigour of the evening and the sense that God was there in the midst of us, as we enjoyed being in the heart of the pub community."
Bishop Jonathan has promised to come again and, next time, to bring Bishop Graham Usher with him! And, yes, he was invited to sing a solo – The Bee Gees' Words, explaining, he felt, a deeply theological underpinning of that song. "Words are all I have, to take your heart away".
---
---
Keep up to date
Subscribe to our eNews for a snapshot of news, events and resources, usually emailed once a fortnight
Signup to newsletter