Pilgrimage in Lapland
This August, as part of the "sharing of experiences", six people were invited to join in a pilgrimage along the Dag Hammarskjold Way which lies 250 km within the Arctic Circle, further cementing the link between the Diocese of Norwich and the Diocese of Lulea in the far north of Sweden. Steve Williamson shares their journey.
Former Secretary-General of the United Nations, Dag had left behind a book of Markings. It reflects its author's efforts to live his creed, his belief that "all men are equally the children of God and that faith and love require of him a life of selfless service to others." Some of his spiritual meditations have been carved onto boulders that mark the 70 miles or so route between Abisko and Nikkaluokta, roughly the distance from King's Lynn to Great Yarmouth, and climbing to a height 1,150 metres. (slightly higher than Snowdon.)
This is prime hiking country, with big skies, shimmering lakes and acres of protected wilderness (greater than the size of Norfolk) with basic mountain huts every 10–20km, where you get a bed and a stove, but there's no electricity or running water, no wi-fi or mobile signal – and very, very basic sanitation. Anything and everything we needed – we had to carry – including all the food.
Six people from across Norfolk took up the challenge: Alan Baker, Jenny Ferns, Peter Howard, Damon Rogers, Geoff Young and me. We were joined by Moa Beak with husband David, Mattias Bostrom, Bo Glas, Helen Lundberg, Anna Pittja and Tina Viklund all from Sweden – and all with perfect English. All of us serve our churches where we live.
"Den längsta resan är resan inåt: the longest journey is the journey inward." (Dag Hammarskjöld)
Well, our journey started travelling from Norfolk to London Heathrow. Almost immediately we were in prayer as Alan's car blew a gasket and black smoke billowed from the back. Somehow or other the car got us to the airport on time and we flew to Stockholm. Then it was to be a 23 hours journey by sleeper train and bus.
We eventually joined up with our Swedish hosts at the tourist station in Abisko and enjoyed an evening together over a three-course meal of arctic char, braised moose with celeriac, and cloudberries with ice cream. We presented our hosts with a small gift that expressed our hopes for the trip. It was a slate carved with this from Julian of Norwich, "All shall be well, and all shall be well, and all manner of things shall be well."
Our hike started the next day in great good spirits and morning prayer and, at the commencement of any walk, the prayer of St Birgitta, "Show us, O Lord, your way and give us the will to walk it."
The countryside was amazing. Unchanged over millennia and silent. Each day we stopped for a small outdoor eucharist in the round that was extraordinarily moving, and Moa talked about the "markings" on that day's stone, giving us questions to ponder which we discussed each evening after prayer.
We reached our first hut. We had been prepared so it wasn't too much of a shock but we small band of brothers and sisters soon realised that any reserves had to be surrendered as we all had to share in everything, cooking, cleaning and rooms. We adopted to a simpler life and Swedish ways – crispbreads and saunas.
This was the pattern of our six days of hiking. The weather throughout was perfect for walking. Not too hot and not too cold with some snow showing on the higher points. Our only short spell of rain was blessed with a rainbow.
Along the way we saw Saami villages, waterfalls, glaciers, reindeer, grouse, mountain flowers; we drank from the streams and crossed rivers; we collected blueberries and cloudberries; we ate smoked moose, reindeer, arctic char, trout and herring, salted liquorice and plopp (don't worry – it's the name of a chocolate bar), we enjoyed two boat crossings across lakes to shorten the journey and met up with other travellers from Sweden, the UK, France, Hungary and the USA.
We had a fantastic and happy time with a lot of fun. Our thanks go to the Church of Sweden for being so generous inviting us to visit and especially to Moa and Mattias – Tusen Tack. Anyone who organises any church activity knows the responsibility that falls upon you and the hopes enshrined.
Throughout our journey, we felt that God was close by watching over us. Our trip may have ended but the inner journey continues.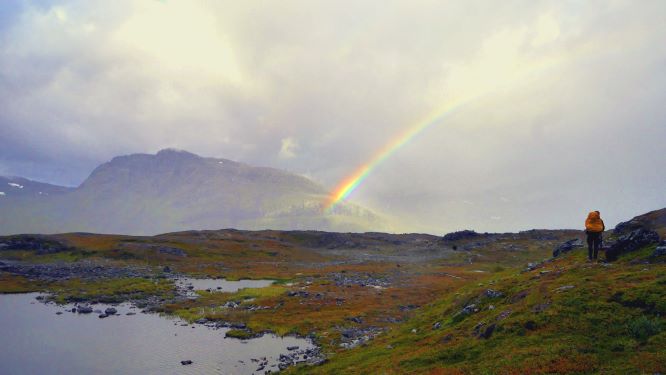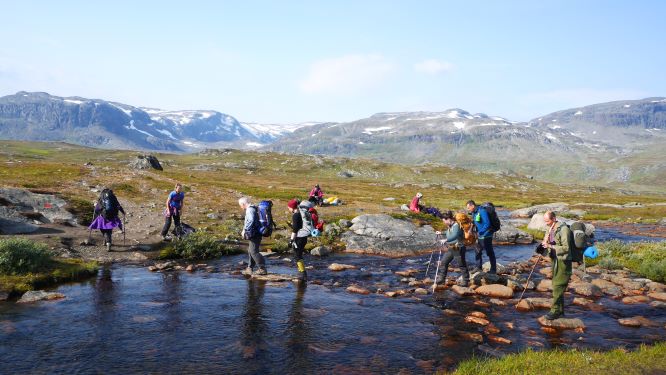 ---
---
Keep up to date
Subscribe to our eNews for a snapshot of news, events and resources, usually emailed once a fortnight
Signup to newsletter