Pub venue for lent group
This week Poringland and Framingham Earl Churches' Together held one of their Lent Bible study groups in the Royal Oak pub.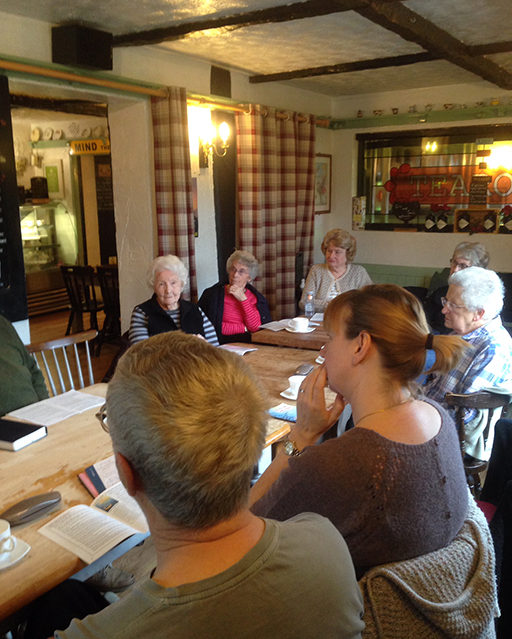 The annual Lent ecumenical groups are traditionally held in various locations and this year, for the first time, the pub has become one of those locations. This is building on the work of PubChurch, launched in 2017.
PubChurch meets each month on the third Sunday and has become the basis for other church activities taking place in the location. The annual Easter service will take place on Thursday 18 April at 8pm. There is also a monthly men's group, meeting on Wednesday evenings, and Saturday mornings see the 'Can't Sing, Won't Sing' community singing group meet at 10am.
The Revd Rachel Foster said:
"When we were led to start the Sunday PubChurch gatherings, we really did not know what shape this ministry was going to take. It is developing and growing into something we had not pictured at all.
"The prophetic picture we were given, which we use as our logo, is gradually coming to fruition. I attend the pub each Thursday morning to read the Bible and pray with others and this is growing into a chaplaincy role where I have had the privilege of openly praying with staff and customers.
Our annual Christmas and Easter services followed by a pub sing-a-long, led by the community singing group, is now expected by the locals, along with our monthly presence at the Sunday PubChurch gathering.
We are indebted to Nick and Delia Perry as they continue to open their premises to God's wonderful work. The Churches' Together Lent lunch this week was also held in the community at the Poringland community centre as we experience more and more opportunities to take church out into the community."
---
---
Keep up to date
Subscribe to our eNews for a snapshot of news, events and resources, usually emailed once a fortnight
Signup to newsletter