Holt Road
North Elmham
NR20 5JU
Website:
www.heartofnorfolkchurches.org.uk
Regular open days/time: Open daily from 8am to 6pm.
Church building description: The church of St Mary is adjacent to the site of the See's first Anglo-Saxon Cathedral (transferred to Thetford in 1071) and also the ruins of a Norman Bishop's Chapel. Within the church are late medieval pew ends and a chancel screen, a recently restored1622 communion table, and a few windows include fragments of medieval glass. The imposing tower contains eight bells and attracts many groups of campanologists.
On a footpath, trail or cycle route
Local shop(s) or amenities nearby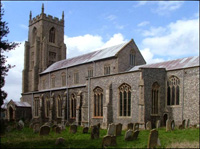 Photo by Simon Knott / norfolkchurches.co.uk